Chart Of The Day - ASI Chart Vs ASI Advance Decline Line (YTD) (14-Jan-2022 16:08:30.071) | InfoWARE Finance
Chart Of The Day - ASI Chart Vs ASI Advance Decline Line (YTD) (14-Jan-2022 16:08:30.071) | InfoWARE Finance
Chart Of The Day - ASI Chart Vs ASI Advance Decline Line (YTD) (14-Jan-2022 16:08:30.071)
(Source: InfoWARE Terminal, Date: 14-Jan-2022)
| | |
| --- | --- |
| InfoWARE Limited | The Operating software for businesses |
Chart Of The Day - ASI Chart Vs ASI Advance Decline Line (YTD)
Chart of the day: ASI Chart Vs ASI Advance Decline Line (YTD) - Market breath
The A/D line is used to show market sentiment, as it tells traders whether there are more stocks rising or falling. It is used to confirm price trends in major indexes, and can also warn of reversals when divergence occurs.
Key Takeaways
The advance/decline line (A/D) is a breadth indicator used to show how many stocks are participating in a stock market rally or decline.
When major indexes are rallying, a rising A/D line confirms the uptrend showing strong participation.
If major indexes are rallying and the A/D line is falling, it shows that fewer stocks are participating in the rally which means the index could be nearing the end of its rally.
When major indexes are declining, a falling advance/decline line confirms the downtrend.
If major indexes are declining and the A/D line is rising, fewer stocks are declining over time, which means the index may be near the end of its decline.
(Definition Source: Investopedia.com)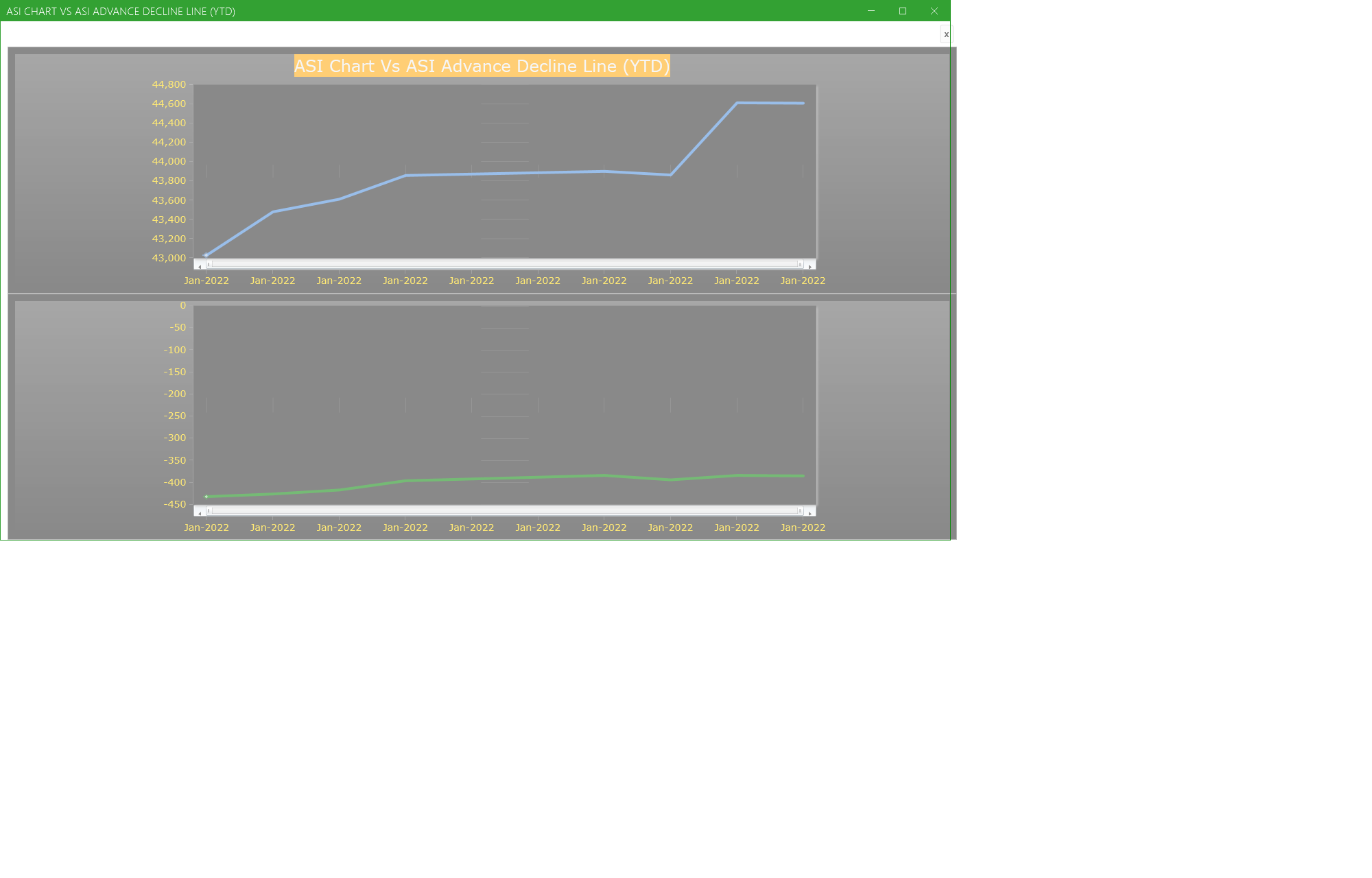 For more detailed analysis,
Find the topic interesting? Will like to coment? Contact Us at solutions@infowarelimited.com
Infoware Limited AIICO Plaza (1st Floor) Plot 12 Churchgate Street Victoria Island Lagos Nigeria

Market data may be delayed up to 15 minutes