Tweet this! Post to your twitter status
ASI Technical indicator - 50 vs 200 day moving average in bull market territory
(Source: InfoWARE Terminal, Date: 03-Nov-2020)

InfoWARE Investment News Service
Dear Investor,
Strategic Insight
BULL market signal chart: Using the traditional technical bull market signal indicator of 50 vs 200 day moving averages, the NSE ASI went into bull market territory on August 18 and since then it has been on a tear! (click on the chart to see a blowout full resolution view)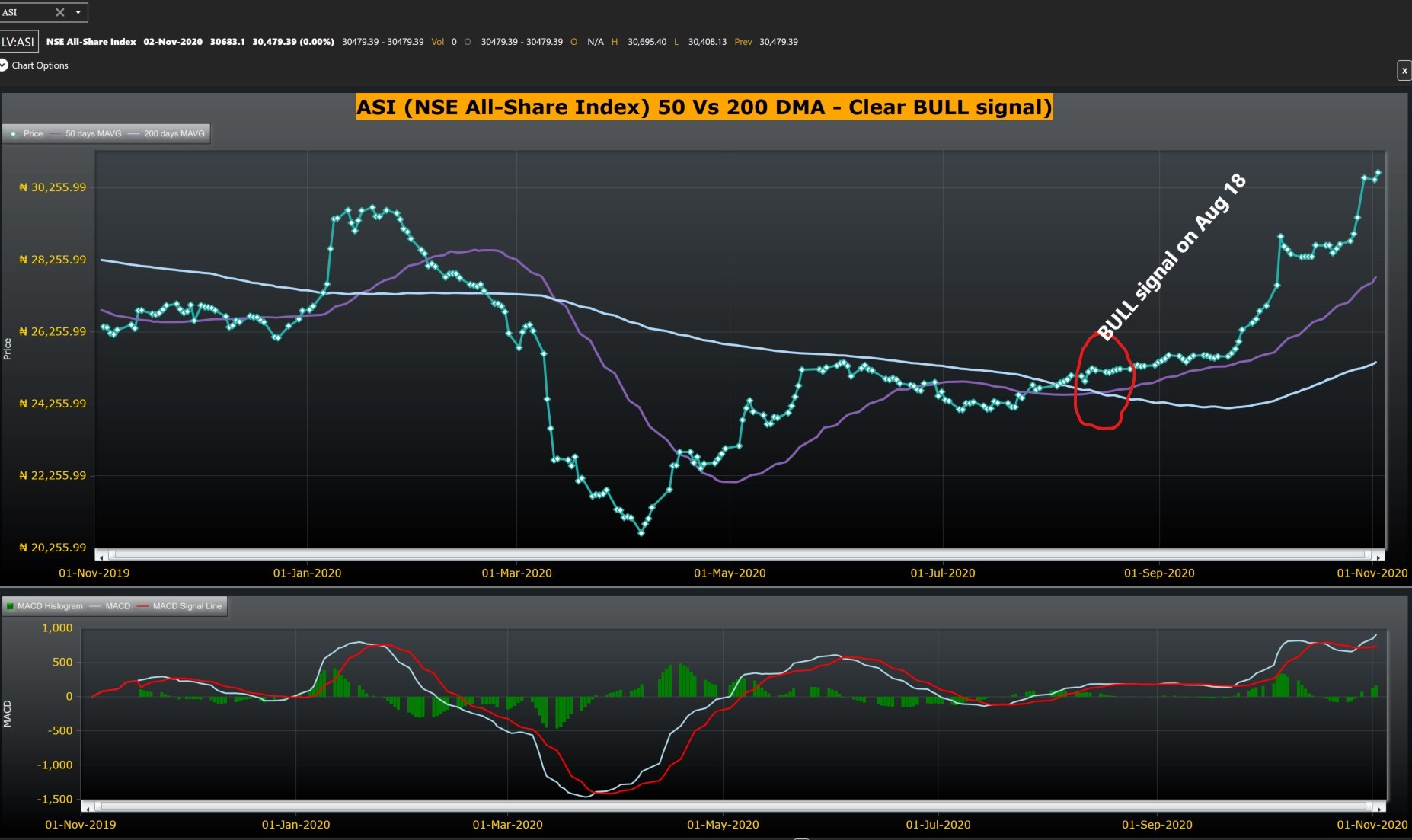 KEY TAKEAWAYS
The 50-day simple moving average (SMA) is used by traders as an effective trend indicator.
Along with the 100- and 200-day moving averages, the 50-day average is a key level of support or resistance used by traders.
The 50-day average is considered the most important because its the first line of support in an uptrend or first line of resistance in a downtrend.
If the price moves significantly below the 50-period moving average its commonly interpreted as a trend change to the downside.
---
Here is your personalized curated news and events that today affected the up or down movement of prices of stocks in your Portfolio, WatchList and/or Open Price Triggers on InfoWARE Finance mobile app
List of stocks in your Portfolio, WatchList and/or Open Price Triggers: AFRIPRUD, CADBURY, FLOURMILL, LIVESTOCK, NASCON, OANDO, OKOMUOIL
---

This service is powered by InfoWARE Limited (www.infowarelimited.com)